BRAND EXPERIENCE.
Consumer activations.
Promotions & Sales.
For 40 years we have been pioneers in providing premium promotional events and personnel for the perfect brand presentation. We bring people and brands together to achieve an impact – anywhere and always with quantifiable results.
Omnichannel
Personal-Promotions:
Live, Hybrid & Digital
services
Interest or questions?
People in our in-house database
Years of experience in implementing staff-based projects
Cases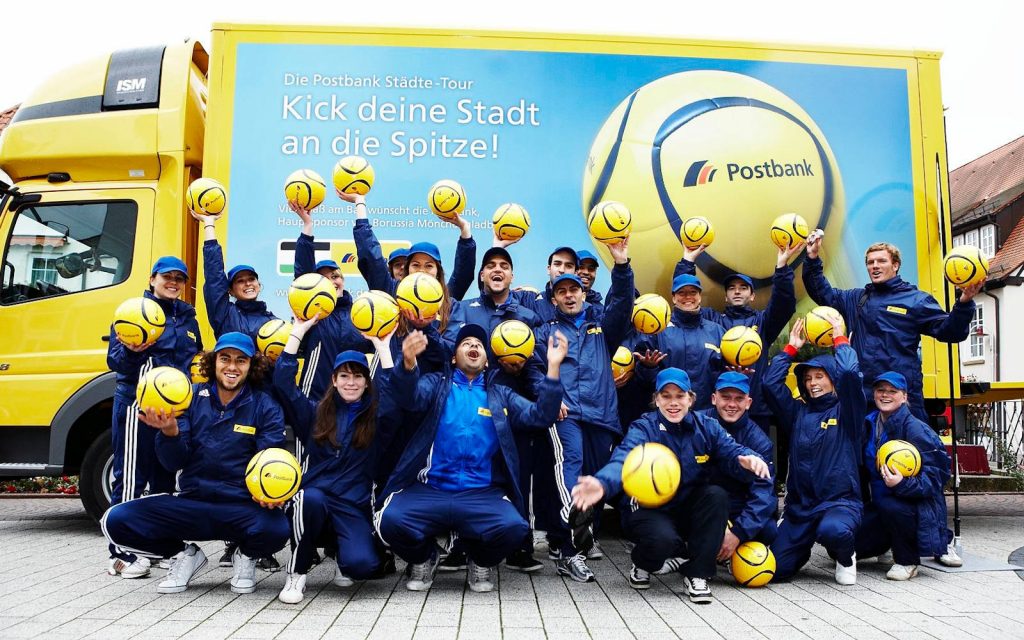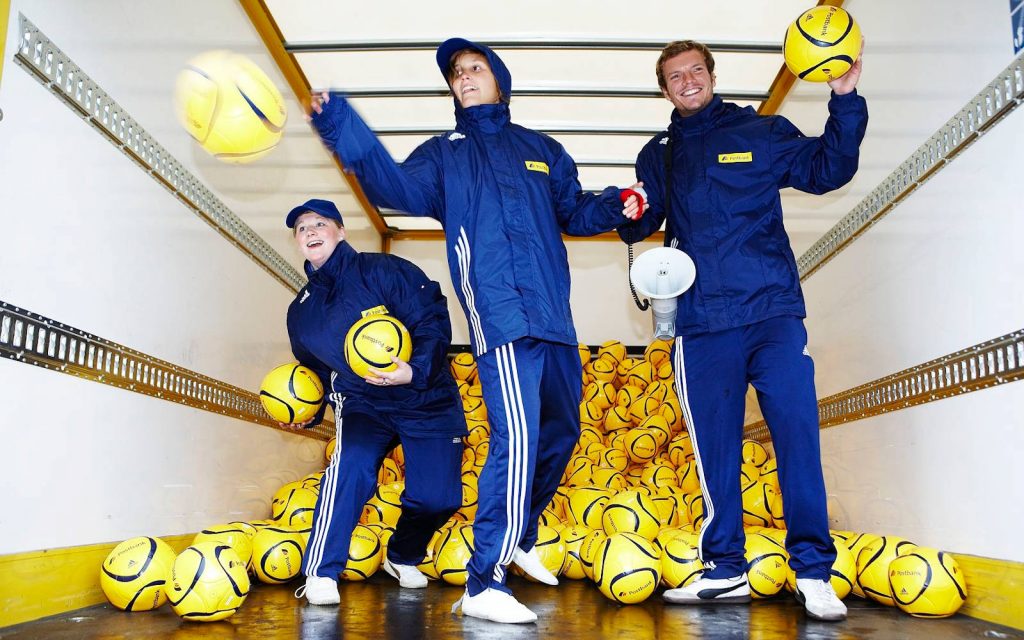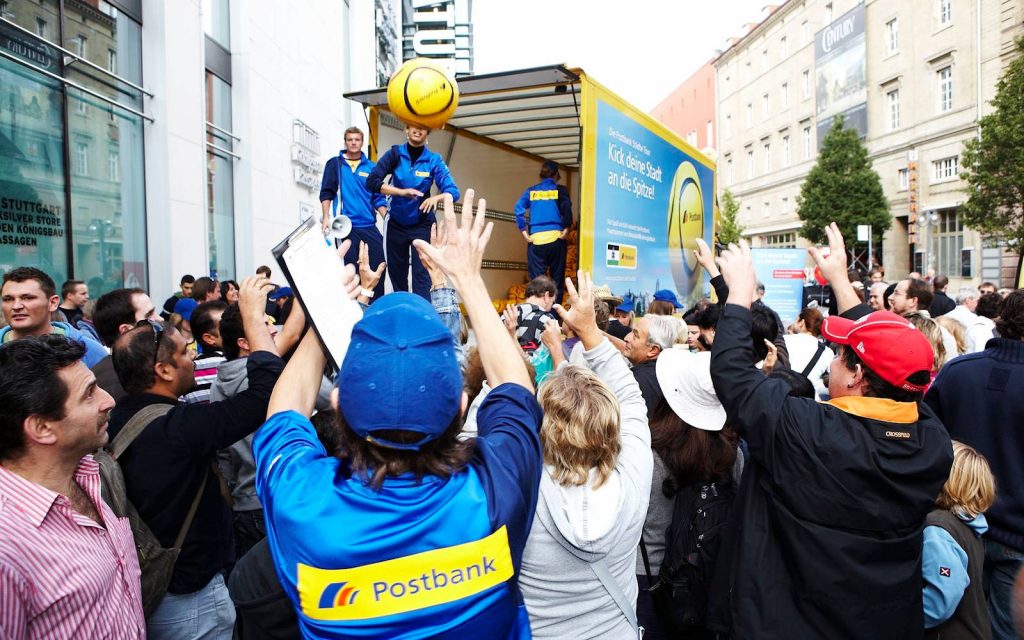 Footballing for cities
Postbank
Challenge
Create new, eye-catching methods of activities and addressing target groups to get the Postbank yellow into the hearts of the fans and into social media networks. Research and booking of attractive and high-footfall locations, comprehensive logistics management and development of a presentation guide for on-site realisation.
Approach
All cities in which the Postbank football club Borussia Mönchengladbach played during the season had the opportunity to win a brand new football pitch for their city – a campaign to make football players' hearts leap for joy.  A trained 20-member team distributed postbank footballs and stopped the clock while all fans tried their hand at holding up a ball to win for their city. High visibility for this Postbank campaign was ensured with an extensive social media campaign and branded motor vehicles.
Results
Facebook fans increased significantly as a result of successful permission management, strong promotional areas, highly motivated staff, targeted tour planning, evaluation and the link to social media networks. This then created synergies between Postbank and football.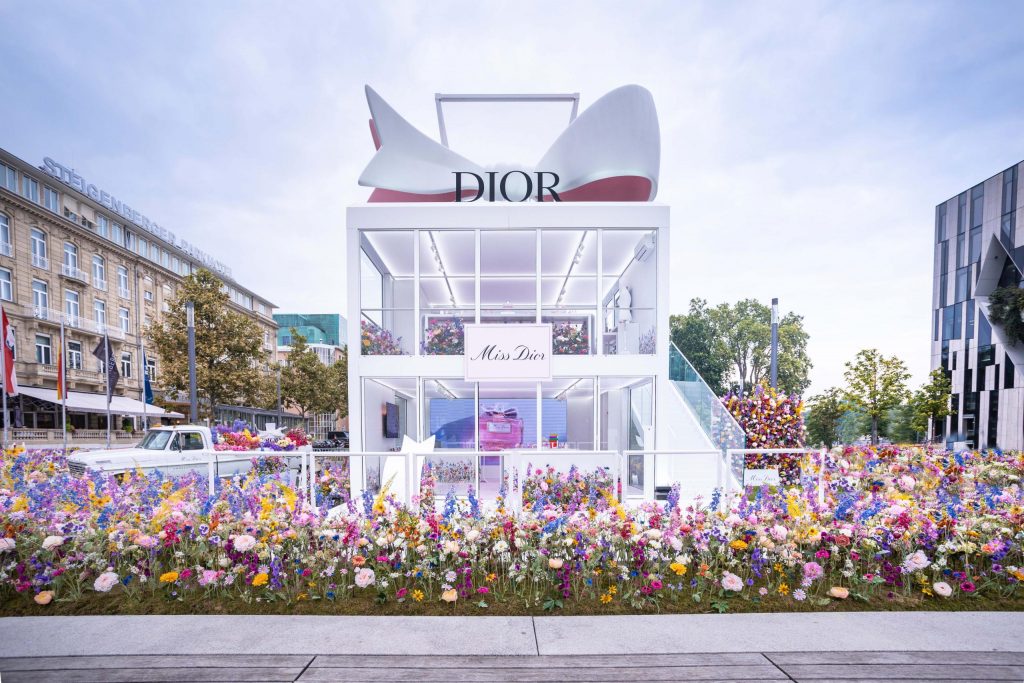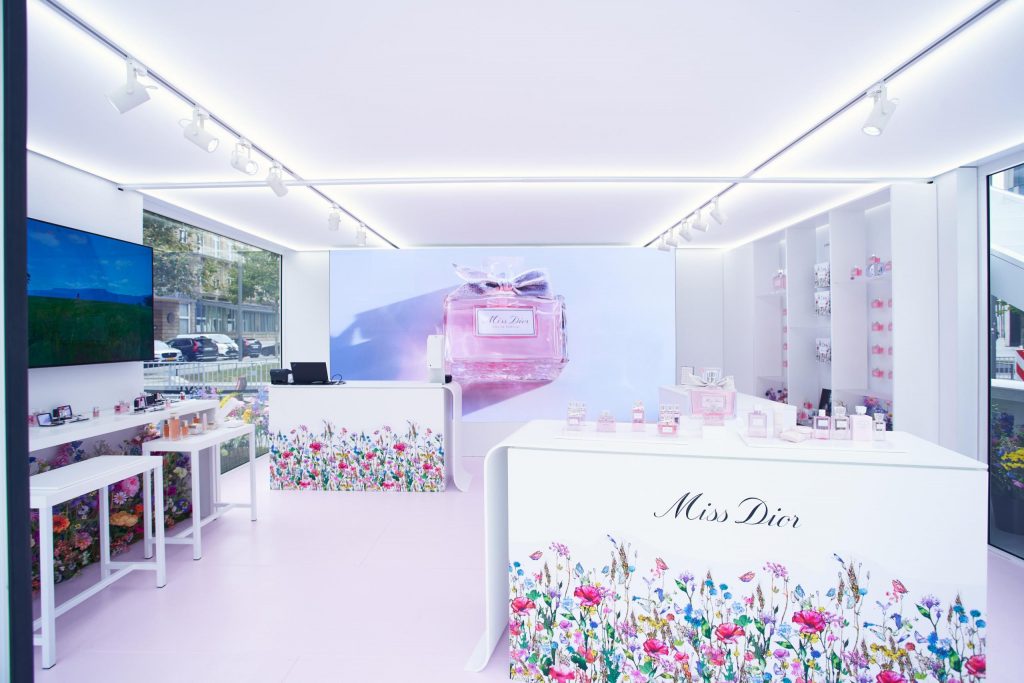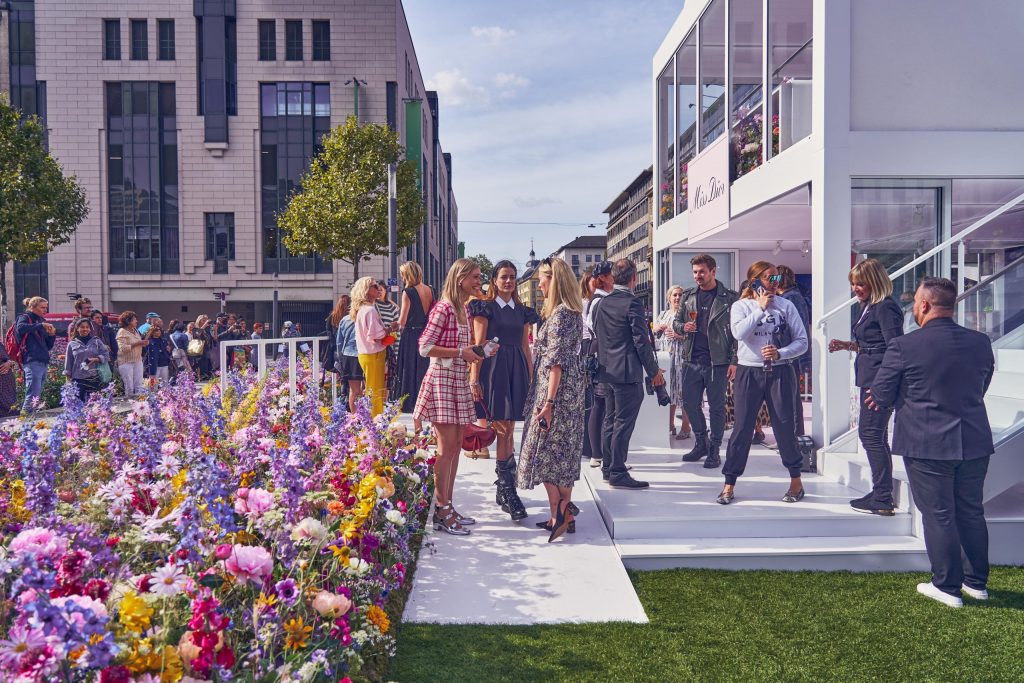 Pop-Up Store & Live-Consumer-Activation
LVMH / DIOR
Challenge
The new release of world-renowned signature fragrance Miss Dior must be stylishly and captivatingly presented to achieve the maximum range of influence. The campaign aimed to inform VIPs, consumers, distribution partners, and the greater public through all available channels – in the most emotional way possible.
Approach
A pop-up store in the middle of the Kö, Düsseldorf's luxury shopping street. A multitude of events held there and in the surrounding area. Influencers, VIPs, press, distribution partners, customers – everyone experiences, at various different times, the messages and characteristics of the brand that mean the most to them. Consumers can book their exclusive fragrance experience online over the course of almost three weeks and immerse themselves deep in the world of Maison Dior. A true omnichannel project that, in the pandemic era, captivates and impresses the trade press, popular media, and social media. A sophisticated celebrity event strategy with top names, some of which have never made an appearance in Germany, capture the interest of TV and print media.
Results
Outstanding influence in all media. Within the campaign time frame, nearly every consumer interested in fashion and fragrances had heard of the project and seen it. The new fragrance quickly sells out thanks to the sales. It doesn't get better than that.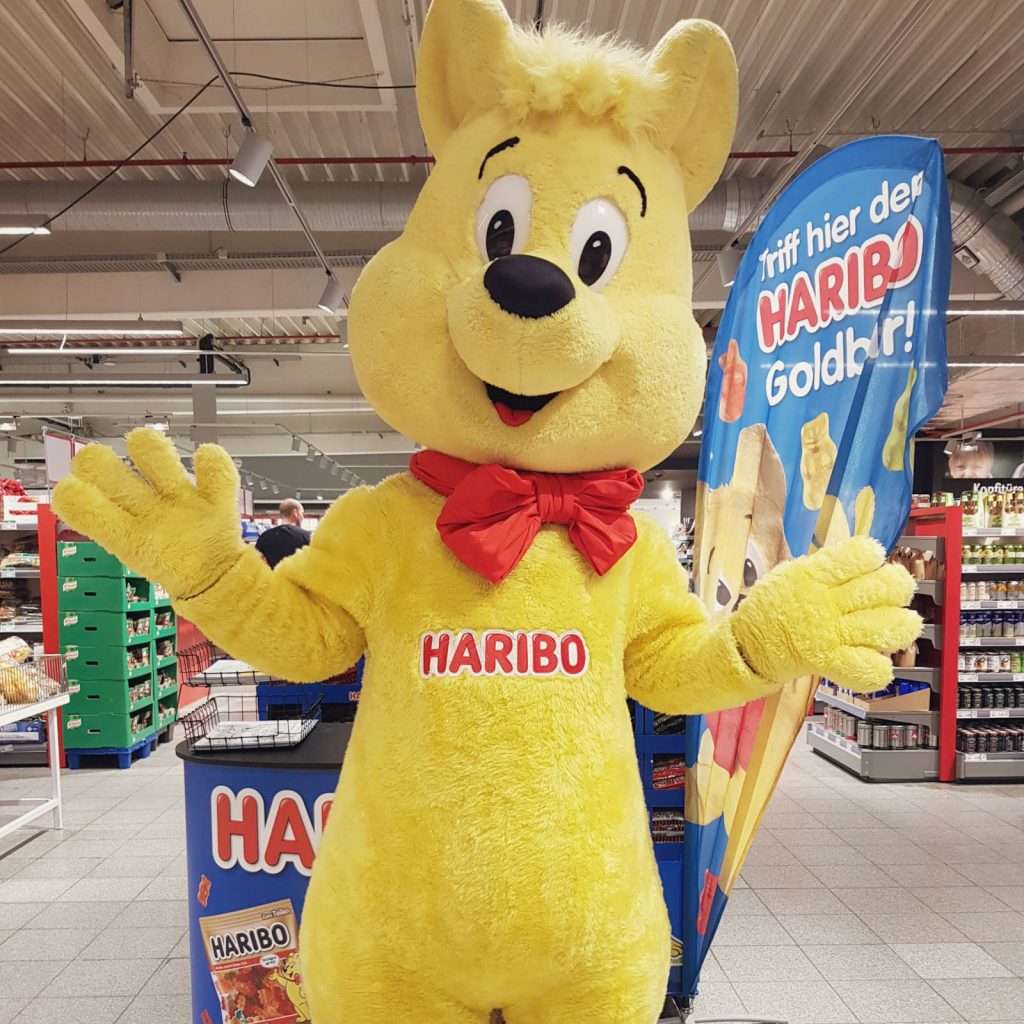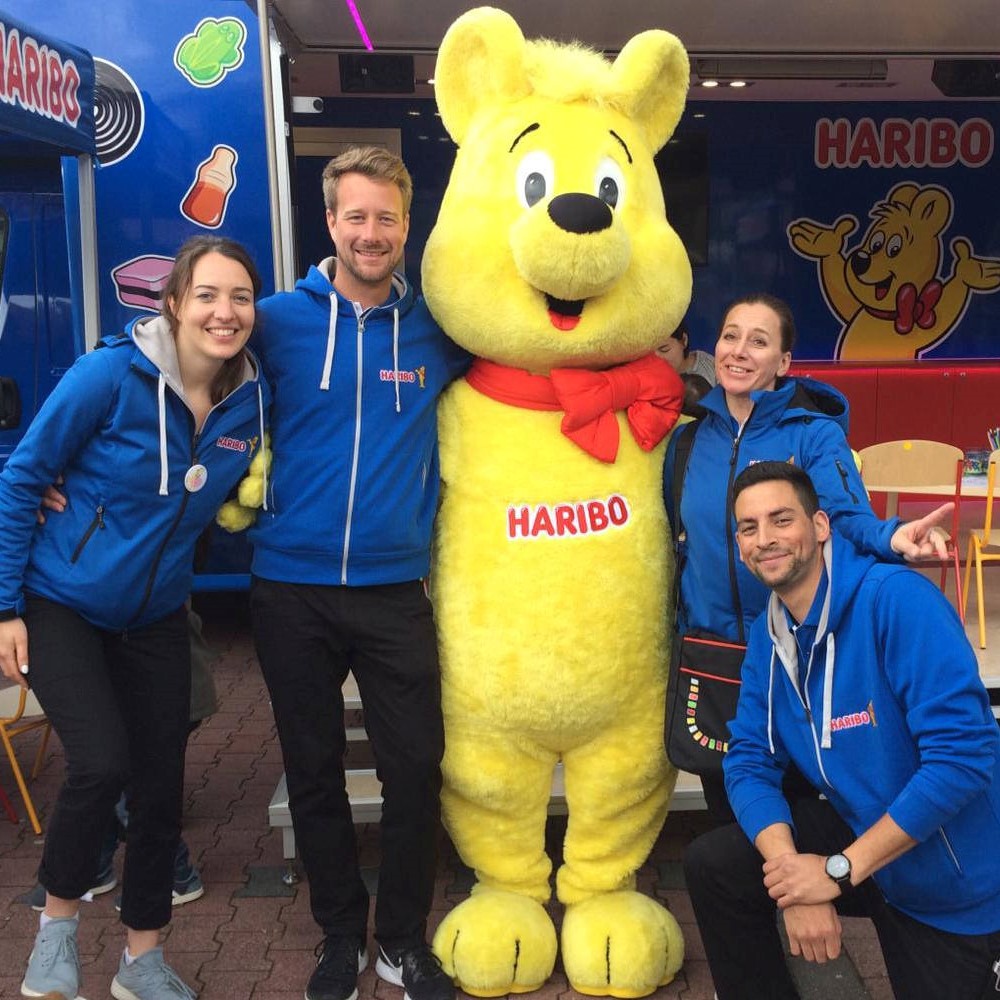 Roadshows, sampling and image promotions as well as walking performers for Haribo
Haribo
Challenge
How can the market leader's mission be presented at the POS? How could consumers be engaged in dialogue? How could the umbrella brand be staged with new and innovative methods? How could numerous product innovations be launched and positioned separately and simultaneously under the umbrella brand?
Approach
A multi-promotional concept included a giant truck for a supermarket chain and large car parks as well as smaller in-store promotion teams and the heart of the brand, the Gold Bear, as a walking performer. A multitude of games and interactive tools were created to engage in dialogue and could undergo constant rebranding. Depending on the size and type of POS, different promotion methods were applied. Samples were also distributed and the brand was presented in a way that made it accessible and tangible.
Results
Transparent processing of consumer feedback revealed: all the brand's promotions were the most popular and effective in the competitive environment; they had 100% trade acceptance; and the target group went to the stores specifically to experience them. Up-lifts in the corresponding periods were significant.
our clients
Community Area
Our Community Area is the place for job offers, help and detailed information about working at B+D and the B+D team.
Become part of the B+D community: We have exciting jobs on offer, whether you are an individualist or team player, a newcomer, a career changer or a brand ambassador with many years of experience, or a part-time or permanent job seeker. Together we make brands come alive.
Come in and see for yourself!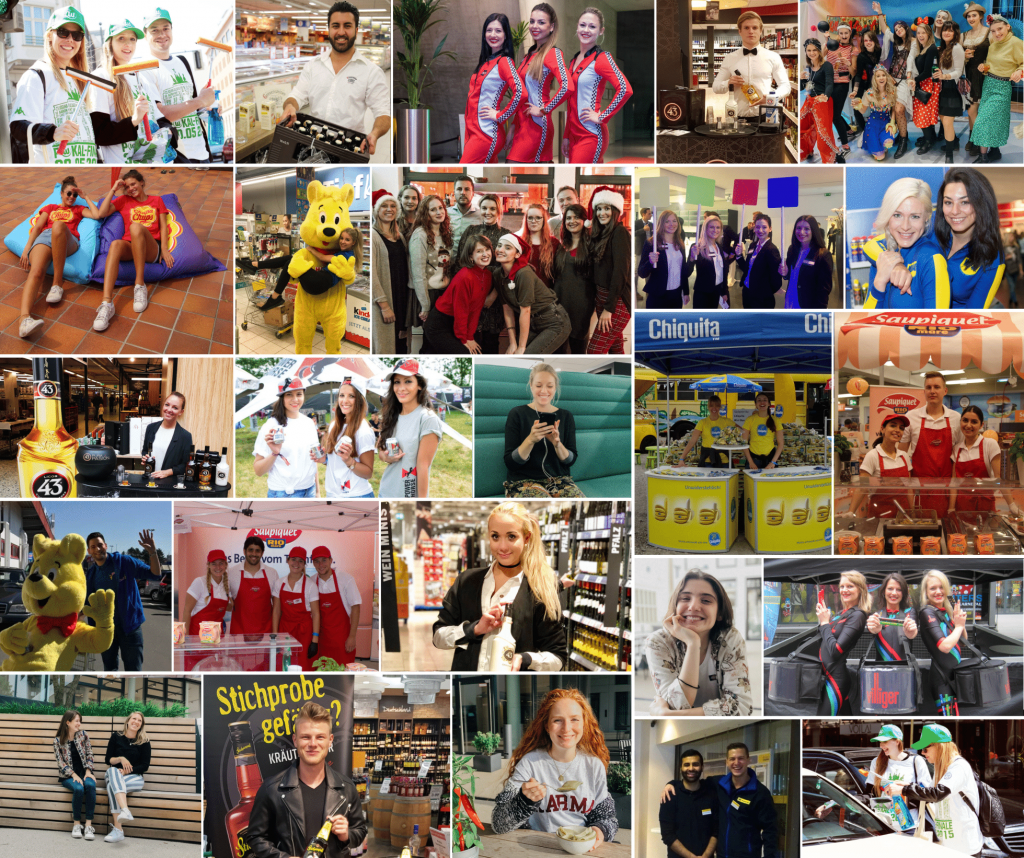 Our values
We believe in inspiring through heterogeneity: diversity means different perspectives and different ideas, which are vital for teamwork and creativity. We then combine these with the power of openness, transparency, respect and tolerance.
We practice partnership on an equal footing: with people within our agency, with partners, our staff, our service providers and also with our clients. We are team players and passionate about working every day to bring people and brands together effectively and sustainably. Accordingly, relationships between colleagues and clients are durable, trusting and always transparent.
We see ourselves as a boutique agency: exclusive, select, familiar – paired with strong professional expertise to deliver excellent results.
career
Do you want #agencylife and to realise thrilling projects for #lovebrands?
Is the combination of project management, marketing, sales and HR the thing you like? Then take a look at our current vacancies. We look forward to receiving your application!
B+D Promotions
in the Design Offices
Im Kabellager 11-13, 51063 Köln
Phone number: 0221-130808-663
Mail: live@bplusd.de